Public Speaking
I contribute to the Android community by giving various sessions about Android, Kotlin, and software development, including technical talks, lightning talks, workshops, bootcamps, and series of Study Jams.
More than 40K have attended/viewed my sessions that focus on best practices for Android development using Kotlin language.
🎙🤖
If you're interested in a talk on topics related to Kotlin and Android, reach out.
The following are sessions I presented.
2022
18 August
[Arabic] Publish your app to Google Play | Slides.
16 August
[English] Meet Maryam Alhuthayfi, Women Techmakers Ambassador
7 July
[Arabic] Google Developers Student Clubs Solution Challenge MENA 2022
5 - 23 June
[Arabic] Modern Android Development Bootcamp.
2 June
[Arabic] App navigation using Jetpack Compose | Slides.
12 May
[Arabic] Firebase auth with Jetpack Compose | Slides.
7 April
[Arabic] Form validation in modern Android | Slides.
18 March
[Arabic] Start Android development with Jetpack Compose
6 March
[Arabic] Inspirational Story: Android developer to Android GDE.
6 February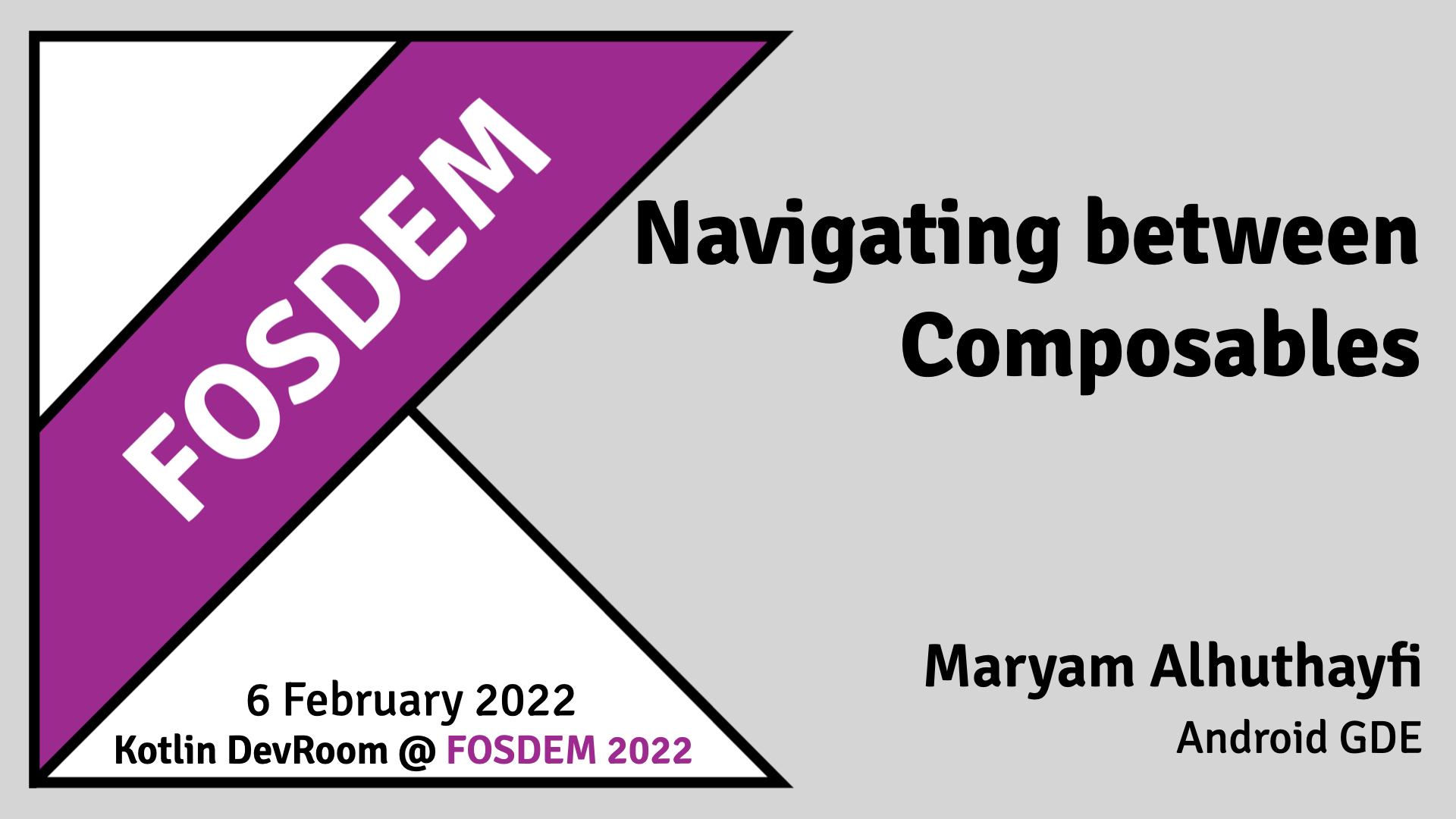 4 February
[English] Android GDEs Feminati with Android Dev Hangout | Twitter Space
This Friday 12:30 EST #AndroidDev Twitter Space!

We will be talking with @_sierraobryan GDE Android USA@DDinorahtovar GDE Android Mexico@Mal7othify GDE Android Saudi Arabia
, discussing their journey and what being a GDE means to them.

Set a reminder below and come join us! pic.twitter.com/DiEeEjREFt

— Madona S. Wambua (@madona_syombua) January 31, 2022
January 10
2021
December 9
November 28
November 25
[Arabic] Get started with Jetpack Compose | Slides.
September 21
August 12
June 2
April 27
March 28
March 23
2020
December 7 - 28
November 17
November 1
October 18
July 26 - 28
[Arabic] #Android11Meetup Android 11 privacy changes | Live-recorded.
April 15
March 5
[Arabic] Intro to Android dev for teens.
2019
November 11
[Arabic] Introduction to Android Development | Slides.